CD Release: 15.10.2012 B. Ashra - Monks
Ritual Musik | Ambient | World | Meditation | Floating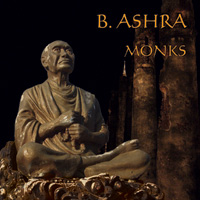 B Ashra - Monks (Separated Beats Catalog#: SBKW004) - Teaser/Promomix by Separated Beats
Separated Beats mp3 shop
Ultimae worldwide distribution
Bestellungen der CD bitte an Separated Beats
Artist: B. Ashra
CD Titel: Monks
Catalog#: SBKW004
Limited Edition: 500 CDs
LC: 24806
Format: CD
Label: Separated Beats
EAN:4036067315326
ISRC: DEHE10700080 - 81
total playtime: 65:20 min
Releasedate: 15.10.2012
Vertrieb: Silenzio Catalog:31532 (D/CH/Aus)
Bandwebsite: b-ashra.de
email: label@separatedbeats.de
Cover by: Ilona Kowalschek
Titel:
1. Monks Part1 43:25 min.
2. Monks Part2 (feat.Travis McMurphy) 21:51 min.
composed 1999 for a performance of the Kung Fu Academy Berlin. Remastered 2012 at GL Audio Studio Berlin. Working Title: Music for Kung Fu Academies


special thanx to Master BamBang Tanuwikarja (Kung Fu Academy Berlin), Travis McMurphy (Monks Part2) and Ilona Kowalschek for artwork.
Monks wurde von B. Ashra in Zusammenarbeit mit Travis McMurphy für eine
Performance der Kung Fu Academy Berlin komponiert.
Monks Part 1 ist 43:25 Minuten lang und verzaubert durch seine sphärisch elektronischen Klange die sich mit Kelhkopfgesängen, Gongs, Rainstick, tibetanischen Hörnern und akustischen Gitarrenklangen verweben. Man fühlt sich sofort entspannt und denkt sich automatisch in die ostasiatische Realität. Erst nach 26 Minuten gesellt sich langsam ein angenehmer Groove dazu.
Ritual Music | Ambient | World | Meditation | Floating Music
Der zweite Track: Monks Part 2 ist eine sehr in die Tiefe gehende meditative Drone - / Dark Ambient Atmo mit Klangkollagen aus Naturgeräuschen und buddhistischen Glocken. Wind zieht einem entgegen, hier fühlt man sich an eisige Orte des Himalaya Gebirges versetzt.
Dark Ambient | Drones | In die Tiefe gehend
download: onesheet english / onesheet deutsch
Rezension : Fazit: ... B. Ashra transferiert mittels seines ausdrucksstarken Releases "Monks" im Direktflug nach Tibet, wo Kopfkinofetischisten in Klöstern und der Natur wandeln – meine absolute Empfehlung! PS: In meinen Ohren ein Pflichtkauf!
vollständige Rezension: Kultutterrorismus
>>>>>>>>>>>>>>>>>>>>>>>>>>>>>>>>>>>>>>>>>>>>>>>>>>>>>>>>>>>>>